Raphael Tuju is a familiar name to most Kenyans. He was a former TV news anchor at KTN TV and the  founder of Ace Communication.
He has also served as Rarieda Constituency Member of Parliament and Minister for Foreign Affairs under the late President Kibaki's regime. He is currently the Secretary General of the ruling Jubilee party.
In addition to his successful communications company, Tuju is also the owner of the Dari Restaurant hidden in the leafy suburbs of Karen where he also resides.
DON'T MISS: Stay informed with the latest news and interact with us on Instagram.
His multi-million residence can easily be mistaken for a castle, owing to its massive size. The magnificence of the mansion is amplified by the twin stairways that coil on the front entrance.
The property sits on a well-manicured lawn, a mock waterfall fed by a slow-flowing river and the lush vegetation nearby. Like like most mansions, Tuju's residence boasts a swimming pool in the yard. Long glass doors on one side of the house add on to the grandeur of the house's architecture.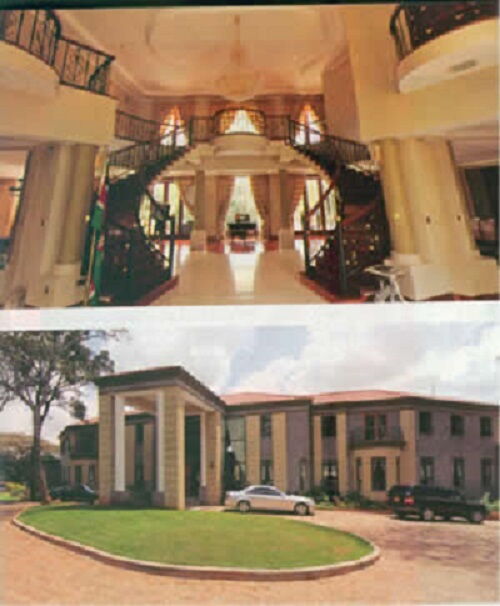 Modern Scheme
Indoors, the modern colour scheme, alluring interior design and a glistering chandelier simply whispers class rather than scream it. The compound also has ample parking for visitors.
Speaking to a reporter in a past interview, Tuju mentioned that he was very involved in the step-by-step construction of his majestic home. "I did not use a contractor. I lived across. Every morning I would come in and supervise, and I got a friend who was not paid to help watch over the whole thing," he revealed.
JOIN US: Stay informed with the latest Kenyan news and join the conversation on Telegram.
He further placed an emphasis on style saying, "Everything is more about style than money. I like to remind myself that I will live only once, and so I am going to build a decent house for myself."
Luxury restaurant
After he lost the Rarieda parliamentary seat in 2007, Tuju went into real estate, acquiring and developing several establishments in Nairobi. He was known in the Karen neighborhood for maintaining Dari Restaurant as an eco-park themed restaurant and conference center.
Dari Restaurant sits on seven acres in the wooded Karen. The restaurant offered inventive and exciting international cuisine and accommodation. Some of its special features include an indigenous forest with beautiful plants, and flowers. They form the perfect backdrop for breakfast, lunch, dinner or special occasions.
One of Dari's best secrets lies in the gardens featuring well maintained lawns that host wildlife including the beautiful Thomsons' gazelles, Impalas, Bush babies, Tree squirrels and birds like peacocks, cranes, horn-bills, sun-birds just to name a few.
However, the restaurant has been closed indefinitely pending a ruling on the ongoing court proceedings.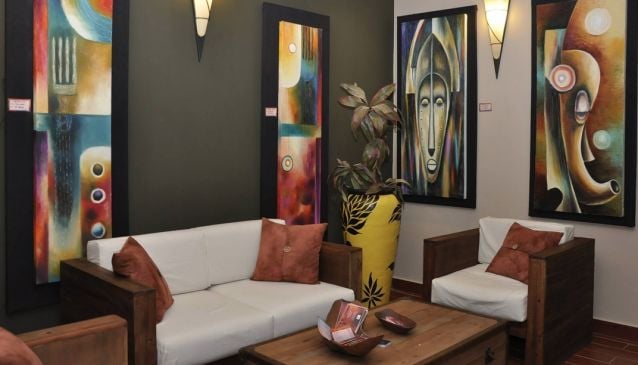 Sweet deal gone sour
In 2015, Tuju sought to expand his business and transform Dari Restaurant to look like the Windsor Hotel, the golf resort owned by the family of former Cabinet minister John Michuki. Dari, which is 13.2 kilometres from the city centre, and in the middle of an indigenous forest with luscious flowers, was to undergo a complete makeover by expanding its business to the nearby Tree Lane property.
The Tree Lane property, as it is known in court records, also offers a panoramic view of the peaks of Ngong Hills.
There was already a boutique business and 14 accommodation units on the 20-acre farm.
To expand his business, Tuju had to secure a loan to purchase Tree Lane Property. To secure the loan, Dari Ltd – a company owned by Mr Tuju, his son Mano and two daughters Yma and Alma – placed the restaurant and its developments as collateral until the completion of acquisition of the project site.
On the proposed project, there was an additional residential building with 14 rooms, plus cottages. Even before the project started, Mr Tuju was excited that Dari had accommodation. He wanted to add 36 cottages.
There was also a proposal to build a destination spa and a gated community comprising 30 three-bedroom retirement homes. It was thought that the sale of these houses and the income from the accommodation, spa and restaurant would be enough to repay the loan.
However, the deal went south and the project was never completed. The restaurant remains closed indefinitely for now amid court proceedings.