Ledama Olekina is a Kenyan politician and the current Senator for Narok County. He was first elected on an Orange Democratic Movement (ODM) ticket in the August 8, 2017, general elections. In the recently held August 9 general elections, Olekina was re-elected to serve another term in office after garnering 135,180 votes.
With a career background in communications, he has previously worked as an assistant Producer at Reuters. He has also worked as a Managing Director at Lacave Breweries Limited, Director of Sidai Media Group and Senior Consultant at Enkanasa Village.
WoK takes you to a tour of Enkanasa Village owned by Ledama Olekina.
DON'T MISS: Stay informed with the latest news and interact with us on Instagram.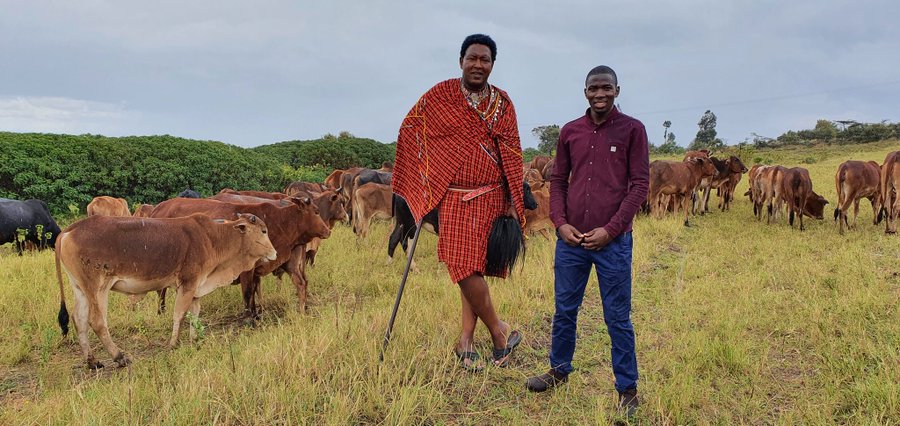 His Passion In Farming
Enkanasa Village Organic Farm is a project close to the ODM stalwart. At this vast farm, Ledama Olekina rears dairy cows and you will find organically grown crops like maize, trees, wheat and barley for sale. The farm is located in Narok county. The Farm also sells milk produced by the cows in the premises.
The farm, which is about 1,000 acres, has over 50 acres of land with barley and 50 acres of corn. His Friesian dairy cows also produce about 1,800 litres of milk every morning, which is then sold to a factory. The Enkanasa Village farm is open to visitors who want to get the farm experience and learn different methods of farming.
10000 Acres Of corn
In a separate video, the advocate of land use policy states that he has over 5000 acres of wheat and 10000 acres of corn. He has always opposed the subdivision of land in Narok county as it reduces land for meaningful cultivation. Olekina welcome those interested in farming to come to Narok but not to buy the farms.
JOIN US: Stay informed with the latest Kenyan news and join the conversation on Telegram.
Philanthropy
The outspoken Senator has a rich history of philanthropy and this can seen by the projects he is involved in. In 1999, Olekina founded the Maasai Education Discovery, a movement committed to bringing education closer to the Kenyan child.
In the same year, he walked across the United States of America to raise awareness on the need of quality education for his people, the Maasai. This first walk took him from Durango, Colorado, to Phoenix, Arizona. 565 miles (909 kilometers). Often walking up to 80 kilometres a day.
With the money raised during his walks, Ledama was able to initiate the Girl's Scholarship Program and later Education Resource Center located in Narok. Since then, he has been able to computerize over fifteen schools in Narok and Kajiado districts. In 2002, he was praised for bringing the internet to Narok and funding the installation of the first wireless network in Narok after having secured a Ksh. 60 million (USD 500,000) equipment grant from Cisco Systems International.