Kenyans were treated to a shocking murder that led to the arrest of Gladys Chania-a politician who unsuccessfully contested for the Kiambu County Woman Representative seat. Chania was arrested over the killing of her husband George Mwangi, whose decaying remains were found in Kieni Forest.
Gladys is believed to have masterminded the murder of her husband following the discovery that he was having an affair with another woman. The two had been married for over two decades and had three children together.
When detectives arrested Gladys, she was driving the late husband's pick up truck that had been spotted heading towards Kieni forest with a heavy load. Preliminary examination of the truck revealed blood stains on the floor of the cabin, ropes and cement bags similar to those found beside the victim's body.
DON'T MISS: Stay informed with the latest news and interact with us on Instagram.
Suspected in the murder ploy
Chania is believed to have carried out the murder with the help of a newly employed casual laborer and other accomplices. So far, three suspects connected to the murder are in custody, assisting detectives with investigations.
Ironically, Gladys, who is accused of her husband's murder, is also a counselling psychologist who advises people on how to resolve family conflicts. She often appears in various TV programmes as a mental health expert. She is also the current County Chairperson Kenya Red Cross Society in Kiambu County.
According to the DCI, the suspect first reported her husband as missing Kamwangi police station and later that evening at Mwea police post in Gatundu North on October 11, 2022.
She told DCI sleuths that her husband was alive on Sunday morning. According to Gladys, George, who was an electrical engineer and road contractor based in Kigali, Rwanda, went downstairs and never came back.
"He went downstairs and never came back. He did not carry his mobile phone and in the evening when he failed to show up, the next day I reported the matter at Kamwangi police station and later at Mwea police post, which is within my jurisdiction,'' Ms Chania told the detectives.
JOIN US: Stay informed with the latest Kenyan news and join the conversation on Telegram.
Relationship with tenant
According to family members, George was in a relationship with one of his tenants known as Ms Lucy Muthoni . The relationship that started when Lucy was searching a house to let.
"Their love relationship was no longer a secret as every time the deceased was home, he would be spotted side by side with the woman at local entertainment joints and other social gatherings.
Some of the family members intimated to detectives that the deceased had introduced Lucy to his family as his second wife and she was well known to the extended family," the statement further read.
Education
Gladys studied Justice ad Security in Mount Kenya University after going to the University of Phoenix to pursue a Bachelors Degree in Child and Adult Psychology. Later she earned a Masters Degree in Child and Adult Psychology from the University of Leicester.
Aspiring politician
Gladys Chania unsuccessfully contested for the Kiambu County Woman Representative seat in 2017 and 2022 general elections.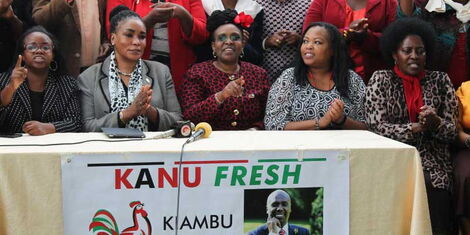 Corruption allegations
In 2019, Glady was reported to have defrauded Kiambu County residents of millions of shillings, with false promises of linking their alcoholic family members to rehabilitation centers in the US.
The alleged con game was believed to run under the organization, 'Right At Home Rehabilitation Centre'. She had founded the centre after she returned from the UK, where she had gone for further studies.
Some victims of the fraud came out at the time to give their testimonies. Eric Gathogo and Martin Kahunguro recorded statements at Thika Police Station, alleging that they lost Ksh 200,000 and Ksh 251,000 respectively, with the hope of flying to the US as promised by Chania.
Her accusers alleged that at one time, she told them that she was related to the former Kenyan Ambassador to the US, Njeru Githae.
Gladys Chania was arrested and charged with fraud, but was later released on a cash bail of Ksh 50,000.