High-return investments like real estate are both rewarding and safe. For many Kenyans living in the diaspora, real estate is one of the go-to investment options whose benefits are wide and permanent.
For Lucy Wanja, investing back home was her way of planning ahead for her retirement. Currently living in the USA, Wanja made an investment in real estate by constructing Govan Laikipia, a beautiful holiday villa located at the heart of Laikipia.
While she now enjoys the benefits of her investment, bringing her dream into fruition while living abroad was no easy task. In this article, WOK spoke to Wanja about the challenges she faced when executing her construction, and what it takes to successfully run a business abroad while investing back home.
DON'T MISS: Stay informed with the latest news and interact with us on Instagram.
Please introduce yourself and tell us a bit about your background
My name is Lucy Wanja, I am a middle child of 8 children, daughter of the late Faustin and Salome Gichuru. I was born and brought up in Nanyuki.
I am also a mother to a 32-year-old son.
I attended grade school in Thingithu Primary school in Nanyuki and Karura SDA high school in Nairobi and graduated in the late 80's. I later got married young and had a child and moved to Canada with a 3-year-old child at the age of 24 years with a determination to lift my family out of poverty.
I was able to bring a couple of family members over to America in the early 2000's and jointly, we bought some land for our parents just so timely before my dad's death. We were very proud of having land where we buried our father, and not having to bury him at the public graveyard.
What is your main occupation at the moment?
JOIN US: Stay informed with the latest Kenyan news and join the conversation on Telegram.
I am the proprietor of the only barber college in the capital city of Kansas (Topeka) here in America. I was nominated and won the 2021 Woman of influence award. I also own and operate a taxi business. This year I ventured into Mixed farming as a telephone farmer. I keep goats, pigs, turkeys, rabbits, and other ornamental birds.
What do you enjoy doing during your free time?
During my free time, I enjoy live music, gardening, camping, chillaxing with Netflix, traveling and the finer things in life.
How is life living in the diaspora and how can you compare it to life back home?
Having left Kenya in 1993, it is very hard for me to compare the differences, as I have not lived in Kenya for almost three decades. One thing I am grateful for is the internet and social media. Back in the day when I was new in Canada and even America, I had to wait two weeks to receive a letter from my family to find out how everyone is doing. Nowadays it is a bliss!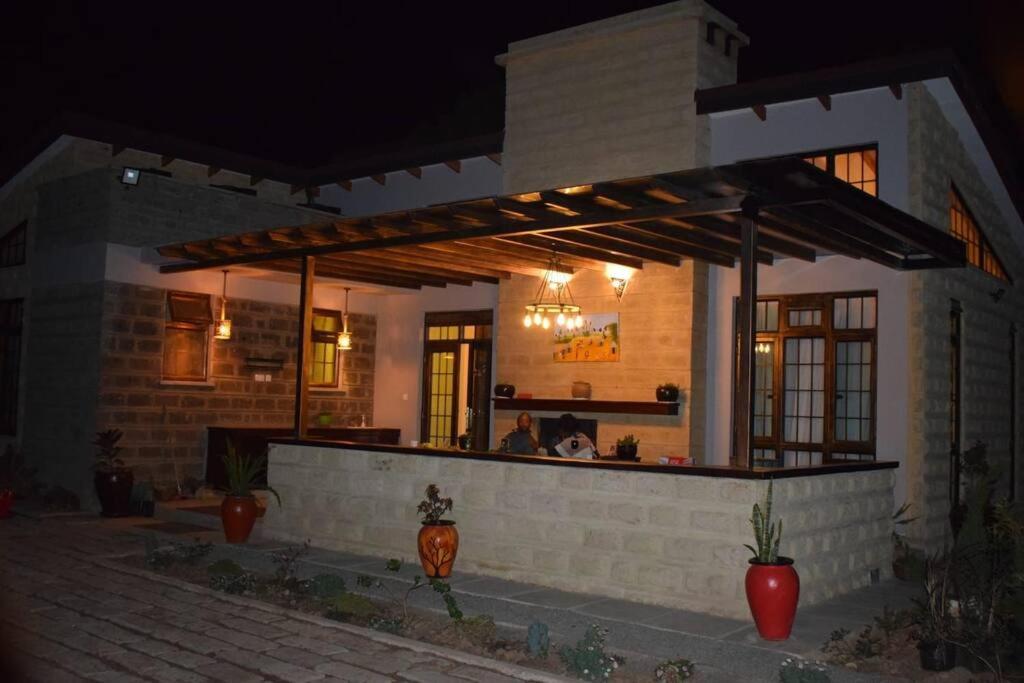 You recently posted your journey on constructing a commercial property in Nanyuki, the Govan Laikipia. Tell us about the experience, and why Nanyuki?
I am now 54 years old and am ready to retire in Kenya within the next four years or so. I started laying the groundwork last year by building a house while I was still in America and posted it on some social media platforms and it went viral. Having left Kenya during Moi's regime and coming back to visit often and seeing the country grow is something I absolutely love.
Building a house while in the diaspora is no easy task. It came with a lot of challenges but also lots of positives… I had a team of professionals including an architect, surveyors, structural engineers, quality surveyor and most of all a project manager who helped me bring the dream to life. I also put out a bid for several contractors to execute the construction. Using the services of a project manager will cost a little bit more, but you do not want to compromise on quality.
One thing I would tell anyone who would listen is to not give a contractor all the control. Let us normalize 'division of labor'. Checks and balances are also very important. Don't just buy a house plan online and give it to the contractor.
How did you manage to run the construction while living abroad?
My project manager and the team I have mentioned earlier made it work. Technology was a key element, but I would be lying if I told you the anxiety wasn't real! I have a YouTube channel where I plan on walking people through the process. It's extremely involving but since am self-employed, I'd say that helped a lot with flexibility and dealing with time difference, video chats and communication had to be top notch.
What are some of the challenges you faced during the execution of this project?
One of the challenges was converting to the metric system. I didn't realize how "Americanized"I was till it came to converting feet to meters and vice versa. Sending large amounts of cash with daily limits was also tough but we made it work. Thanks for online banking plus cashless Kenya nowadays was a big plus. Another challenges was understanding the value of money in Kenya in terms of costs, Luckily my Project Manager is a CPA (K) hence we had a candid discussions about my finances and came up with a phased financial plan accordingly the work scope was done with that in mind, I encourage guys to give financial planning proper consideration in project planning. Let's turn the page so to say in how we approach construction, especially a family home or real estate. 
How did you address the challenge of dealing with dishonest contractors, fundis, etc?
I addressed this issue by involving a project manager and I had very minimal involvement or communication with the contractor until it came to choosing finishes. Everything was handled by the professionals and project manager. They would literally do site visits bi-weekly before the contractor proceeded to the next step, the team, especially the architect, had to give a go ahead. I loved that aspect of the process.
What was the motivation behind building the property?
Like I mentioned earlier, I am approaching retirement age and I have been away from home for so long. I love Nanyuki, especially the suburbs where the house is built, plus both my parents are buried there alongside my three sisters.
What does the business entail? What was your vision for it?
The whole 20-plus years I've been in America, I've always been a business owner and I want to build my businesses in Kenya by expanding and acquiring more rental properties.
Do you have other business interests in Kenya? Tell us a bit about that.
I would like to open a Barber College in Nanyuki within the next couple of years and start an 'exchange program' where I would bring some American students over and some Kenya students to America for a period of three months. I think this will start to bridge the cultural awareness gap especially for my Black American student body.
What is your advice for other Kenyans living in the diaspora who want to invest back home?
Do not cut corners. Shortcuts are not short in the long run. Hire professionals and do not depend on family members. They will mess you up. Am not saying all family members are bad nor am I saying my family members are. All I am saying is, let us normalize paying professionals to do their jobs. The checks and balances I talked about earlier can not be taken for granted.
For people who want to spend time at your property, how would they go about it?
We have a strong social media presence. Interested visitors can find us online and visit the facility.