Agriculture has for long been defined as the proverbial backbone of the economy. According to the Ministry of Agriculture, close to 80% of Kenya's GDP (Gross Domestic Product) is linked to agriculture.
The food we eat comes from farming, from vegetable, to fruits, eggs, dairy, fish, beef, pork, etc. Getting a market for your produce is almost always guaranteed, especially during the current times, when there is food shortage across the country.
According to the Export Promotion Council (EPC), cut flowers, vegetables, fresh fruits, herbs and spices form the majority of horticultural exports from Kenya to other countries.
DON'T MISS: Stay informed with the latest news and interact with us on Instagram.
It is therefore, prudent to invest in an agricultural activity that makes you some extra cash. In this article, WOK has compiled a list of some of the most profitable fruits to consider when branching into agriculture.
Fruits
The major fruit exports include avocadoes, mangoes, pineapples, passion fruits, bananas, and strawberry. According to EPC, fruit exports have been growing steadily.
Herbs and spices
Consumption of herbs and spices has steadily increased over the past few years, thanks to their nutritional value. Kenya has been exporting herbs and spices for decades and the demand for these products is bound to increase.
The types of herbs exported from Kenya include lemon grass, basil, dill, sweet Marjaram, oregano, parsley, rosemary, thyme, sage, chamomile, tarragon, etc.
Spice exports include garlic, ginger, coriander, chillies, paprika, turmeric and cumin.
Flowers
Cut flowers are flower buds that have been cut from the stem. According to the Kenya Flower Council (KFC), Kenya is the third largest exporter of cut flowers in the world, accounting for 38% of all sales in the European Union.
JOIN US: Stay informed with the latest Kenyan news and join the conversation on Telegram.
More than 500,000 smallholder farmers in the country depend on the trade, according to the Kenya Flower Council (KFC). The main production areas are around Lake Naivasha, Mt. Kenya, Nairobi, Thika, Kiambu, Athi River, Kitale, Nakuru, Kericho, Nyandarua, Trans Nzoia, Uasin Gishu and Eastern Kenya.
The main cut flowers grown in Kenya are roses, carnations, and Alstromeria. Other flowers include, Gypsophilla, Lilies Eryngiums, arabicum, hypericum, Statice, a range of summer flowers amongst many others.
A market flower growth of 5% is anticipated every year over the next five years. This is good news for farmers venturing into growing of flowers.
Vegetables
This is the second most important product group within the horticultural industry. By volume, vegetables contribute to about 35% of total fresh produce exports, majority of which comes from smallholder farmers.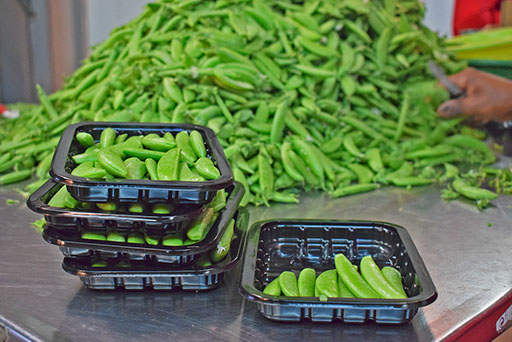 The main export products include French (green) beans, sugar snaps, snow peas and runner beans. Other vegetables for gaining popularity are Asian vegetables such as Okra, Karela, dudhi, chilli and aurbergine.
For people interested in exporting their farm produce, there is a procedure for registration as an exporter of agricultural produce.
First, an interested exporter needs to apply to the MD KEPHIS in writing. The application should be should be accompanied by:
HCD Export license.
Company registration certificate.
KRA PIN certificate and copies of the identification documents of the
directors.
Signed contract without growers (If you have any).
Signed agreement when sourcing from authorized exporters
Details of the physical location of farm(s), crops under production,
acreage and market destination.
Upon receipt of the applications a system audits shall be conducted within ten
working days.