Sally Karago is one of the most celebrated fashion designers in Kenya. She was also one of the first fashion designers in the country, at a time when the concept of fashion design had not yet fully penetrated the Kenyan market. This helped to pave the way for young designers who came after her.
She has dressed some of the most elite women in the country including First Lady Margaret Kenyatta and ex-first ladies Mama Ngina Kenyatta and Lucy Kibaki. At the beginning, her customers were mainly her friends, family, entourage. But within a few years, thanks to her brand, she managed to succeed in the fashion industry in Kenya, but also in Africa and internationally, dressing prominent women in and outside the country.
DON'T MISS: Stay informed with the latest news and interact with us on Instagram.
Known as one of the pioneers of fashion design in Kenya, Sally became famous through her creations where she incorporated the culture of the indigenous Maasai people. She particularly used their black and red striped fabric and the kikoi, notably in her collection Made in Kenya by a Kenyan.
In a recent interview on the Art Of Living TV show on KTN, Sally welcomed viewers into her home, designed tastefully designed to match her unique fashion sense. Her living room featured furniture inspired by contemporary Africa, with a pinch of modern yet chic and edgy designs.
Sally has also added beautiful textures and colours that complement the rich brown leather couches, including beadwork, statues, and small sculptures that work together to bring the space to life. In terms of space, Sally noted that a big inspiration for the space in her boys' lounge area was the journey of motherhood and what it has taken to get to this far.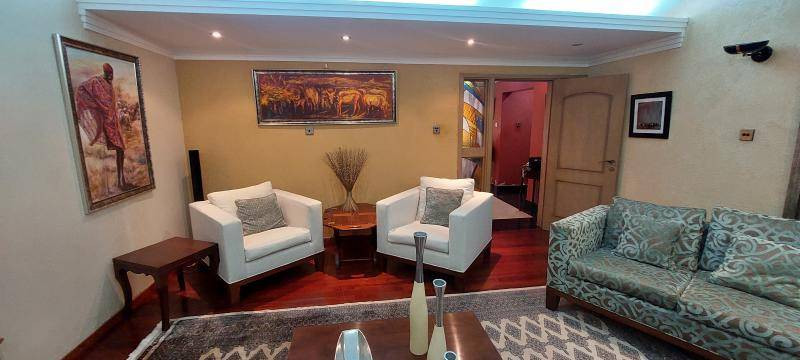 Her walls are also decorated with rustic sculptures of vintage bikes, ship anchors, chandeliers and and family pictures. There are also uniquely sculptured pieces of ships used as table-top decor items. These subtle additions, she says, make a big statement in terms of fashion and taste.
JOIN US: Stay informed with the latest Kenyan news and join the conversation on Telegram.
Other than her fashion work in Kenya, she is also known for her creations in London and New York. During fashion shows, she presented her Turkana collection inspired by Moroccan bohemian fashion. She has also participated in several fashion shows throughout the world including the African Fashion Week in New York.
Sally also works to develop fashion industry in Kenya and Africa through her fashion school called the Mcensal school of fashion design, which has become one of the largest in Kenya.