Sheryl Mboya, a Law student at Mount Kenya University wowed the world with her invention of edible cups and plates. In her efforts to replace non-biodegradable single-use plastics, Sheryl came up with the idea of Snackuit, her products comprising of edible plates and cups.
Her unique invention caught the world's attention at the Stockholm Environment Conference that took place between June 2nd and 3rd this year.
In her address speech at the conference in Stockholm, Sheryl said, "Snackuit is a sustainable alternative to single-use plastics. It can be eaten after the completion of a meal. We were able to develop a perfect structure that one can bite into but at the same time it can be able to contain liquids."
DON'T MISS: Stay informed with the latest news and interact with us on Instagram.
The law student compared the products to ice cream, gelato, and sorbet cones. Her main target is the aviation industry which according to Mboya, is the largest user of single-use plastic cups and plates.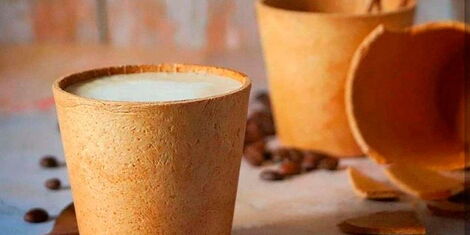 She further encouraged individual consumption, noting that the products are healthy, durable, and reliable, thanks to the mechanism incorporated to hold liquids. She added that her products are made from common edible ingredients and are suitable for anyone regardless of any dietary restrictions. The product is allergen-free and uses gluten-free flour.
"We have been able to develop a product that anyone can be able to consume, regardless of your dietary restrictions and persuasions, your age, or your health status," she said.
If you are wondering what she uses as the main ingredient for the cups and plates, here is your answer. Gluten-free flour is what she uses to make the edible kitchenware, an aspect of the product that caters to consumers with a gluten allergy. However, sugar substitutes are added to improve the taste.
JOIN US: Stay informed with the latest Kenyan news and join the conversation on Telegram.
In Kenya, the Snackuit team has began doing partnerships for mass production. The company recently partnered with the National carrier, Kenya Airways, to make the products for use during flights. Plans are currently underway to roll it out in the whole aviation industry in the country once complete.
To satisfy different palates and the diverse market, Mboya's edible kitchenware comes in different flavors. Her futuristic invention aims at reducing the harsh effects of climate change caused by non-biodegradable plastics. Her cutting-edge creation aims to lessen the severe consequences of climate change brought on by non-biodegradable plastics.