It is almost certain that everyone has consumed a Red Bull energy drink at some point in their life. The drink is described by many as a functional beverage that 'gives you wiiings!!' whenever you need them. It is mainly popular among the youth and is often consumed during sporting events or by travellers. 
The history of this drink dates back to thirty-five years ago, when two entrepreneurs came together to start the company. Read on to find out more about the story as told by WoK.
Co-Founders
The Red Bull energy drink was co-founded by the Austrian National Dietrich Mateschitz (20 May 1944 – 22 October 2022) and late Thai businessman Chaleo Yoovidya in 1987. The two entrepreneurs embarked on a journey to aggressively market the drink.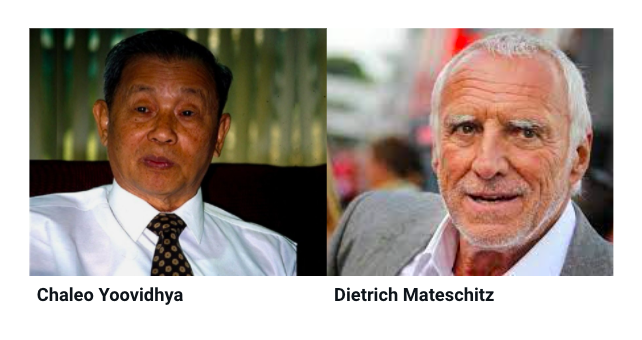 Yoovidya, who was a pharmacist, had originally made a similar drink which he had called Krating Daeng. While doing business in Thailand, Dietrich Mateschitz purchased a can of the drink and claimed it cured his jet lag. That is when it dawned on him that he wanted in on the business and he sought to create a partnership with Yoovidhya. The two later formulated a product that would suit the tastes of different people of different nationalities, carbonated the product and established the Red Bull company.
Red Bull 'Gives you wiiings'
For years, the brand has been synonymous with extreme feats, and has always been marketed as the go-to energy drink for athletes, sportsmen, fitness enthusiasts, among others. Its infamous slogan, "Gives You Wiiings" effectively drives this narrative, complemented by its rather interesting marketing imagery and animations..
Since its inception, the company has grown immensely, purchasing and entirely re-branding a number of sports teams, creating new sports categories and sponsoring countless event series. They also launched their own record label, media network, and music festival. This is in addition to having a Formula 1 team that has won a number of world championships.
Amazing Sales
The company has sold more than 100 billion cans of Red Bull energy drink worldwide since its launch, including 9.8 billion cans in 2021.
Red Bull variants
The drink was originally available only in a single flavor sold in a tall and slim silver-blue can, called Red Bull Energy Drink. However, over time numerous variants of the drink were added.
The company began offering variations on its drinks in 2003 with a sugar-free version of the drink called Red Bull Sugarfree. In 2012, the Red Bull Total Zero variant was released, which was made without calories. In 2018, the company released Red Bull Zero, a different sugar-free formulation designed to taste more like the original flavor.
In 2009, Red Bull unveiled a highly concentrated variant of its drink called Red Bull Energy Shot.
Other products
In 2008, Red Bull released a cola drink, called Simply Cola, with a new version of the cola being released in 2019, as part of Red Bull's Organics line.
In 2018, the company launched Organics by Red Bull, a line of organic sodas with bitter lemon, ginger ale, tonic water, and a new version of Red Bull Simply Cola flavours.